Small Hydraulic Press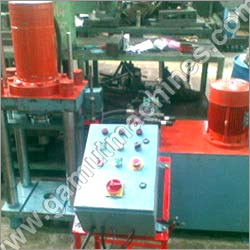 Small Hydraulic Press
Product Description
Small Hydraulic Press

We offer to our clients an advanced range of Small Hydraulic Press Up to 20 Ton. These have got to feature 200 mm stroke. Holding a vast capacity of up to 20 tons, these presses are compact in size. Further, these feature a fabricated stand, four pillar two guide bar and a dual pump and are thus, offered at market leading prices.
A hydraulic press is a machine press which uses hydraulic cylinder to generate a compressive force. The hydraulic press depends upon the Pascal's principle which states that the pressure throughout a closed system is constant. It utilizes liquid pressure to enable a small force applied to a small piston to produce a large force on a larger piston.
Key Features:
Manual and Automatic operation or as per customer requirement.
High performance,

High precision

Easy to operate
Low power consumption
Full-scale security protection and noise reduction
The fabricated steel provides greater strength and rigidity
Slide guiding arrangements in the machine suits various applications
Commonly used for moulding, production, Bearing fitment, Bush Fitment...etc..
Specification:
| | |
| --- | --- |
| Description | 20 to 25 Ton Press |
| Force Capacity | Up to 20 to 25 Tons |
| Stroke | Up to 200mm |
| Throat | Up to 350mm |
| Daylight | Up to 400mm |
| Advance (I.P.M.) | 220 |
| Return (I.P.M.) | 220 |