Broaching Machine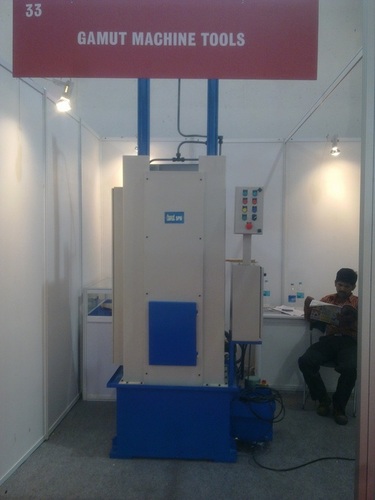 Broaching Machine
Price And Quantity
Product Specifications
Product Description
We are one of the top manufacturers, suppliers and exporters of Broaching Machine. These machines are used in linear and rotary broaching of various types of materials. Known for their effective functioning, these products provide accurate and optimum performance. Tested by our team of quality personnel, these products are absolutely defect free in nature. Broaching Machine can be procured from us in different specifications in accordance to the clients' needs.
Other details:

GAMUT Vertical Broaching Machines are Pull Down Type and Hydraulically operated. These machines are precisely made with hardened, ground and chromeplated 4 guide bar with suitable linear guide bushes fitted on Broach puller holding guide plate which are bored on highly precise jig boring machine to maintained center line with allied machine parts and suitably heat treated to give maximum accuracy continuously. These machines are robustly constructed to minimized vibration during Broaching operation

Key Features :
Built in Coolant Equipment
Built in Hydraulic Power pack
Splash Guard
Broach pullers to suit broach shank with guide plate.
Broach holding guide plate move up and down on 4 Hardened and ground guide bar.
Broach guide bush for tail end to suit broach shank in case of Broach Retriever System
Hydraulic broach Retriever System optional item at extra cost.
Technical Specification:
| | | | | |
| --- | --- | --- | --- | --- |
| MODEL | GAMUT-VB1 | GAMUT-VB2 | GAMUT-VB3 | GAMUT-VB4 |
| Stroke of Broaching in mm | 750/1000/1200 | 750/1000/1200 | 750/1000/1200 | 1200 |
| Pulling force in kg | 3500 | 6000 | 10000 | 15000 |
| Broach Feeding speed Meter/Minuit | 0-5 | 0-5 | 0-3 | 0-3 |
| Broach return speed Meter/Minuit | 5 | 5 | 3 | 3 |
| Max Bore on Top working table in mm | 90 | 90 | 110 | 110 |
| Working table in mm | 400 x 600 | 500 x 700 | 650 x 750 | 750 X 850 |
| Hydraulic Motor HP | 5 | 7.5 | 12 | 15 |
| Hydraulic Maximum Working Pressure in Kg/Cm2 | 100 | 100 | 100 | 100 |
| Hydraulic Tank Capacity Liter | 125 | 150 | 250 | 250 |
| Pump Output in LT / Min | 23 Gear/ Variable | 30Gear/ Variable | 20-40 Variable | 30-50 Variable |
| Coolant Motor H.P. | 0.15/0.25 | 0.25/0.50 | 0.5 | 0.5 |
| Coolant Tank Capacity | 125 | 150 | 150 | 175 |
| Approximate Weight in Kg | 1250 | 1650 | 2300 | 3500 |